Most anyone who served in the 1st of the 5th Cav, as well as the 1/7, 2/7, 11th ACR, etc. in the years 1969 to 1970 is likely to have been to Quan Loi.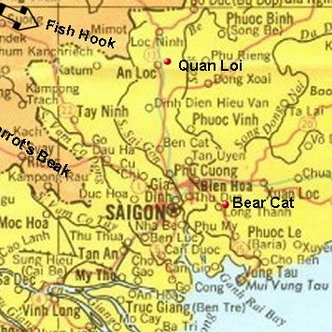 Here's a good idea of it's location. This base camp could be found approximately 60 miles north of Saigon and 12 miles from the Cambodian border. This is in Binh Long province, just to the east of Tay Ninh. First known as LZ Andy, in 1966 it was established as the base camp for the 1st Infantry Division.
As a base camp, there would be artillery units, engineers and helicopter units, all part of the 1st Air Cavalry by 1969. The 1st Infantry had moved to Di An and was headed home as part of the withdrawal of U.S. troops from SE Asia. I believe one of the helicopter units that supported the 1/5 was the 1/9 cavalry.
Originally a French rubber plantation dating to the 1920's. Quan Loi was part of the Terre Rouge (red dirt) Rubber Plantation owned by the Michelin Rubber Co. Anyone who has been to Quan Loi knows that red dirt is an apt name.
Many photos online, but are subject to copyright. I will see if I can get permission to use them. Any of you guys got photos?
During the North's "Easter Offensive" in 1972, there was a tremendous battle for nearby An Loc. The ARVN's 5th Division put up a helluva fight and beat back the elements of 3 different VC and NVA divisions, but both Loc Ninh and Quan Loi were over run at that time. Quan Loi was then used by the NVA as a staging area for supplies and troops crossing over from Cambodia.
Bird-out